---
Events
1881 Gunfight at the O.K. Corral Marshal Wyatt Earp, his brothers Virgil and Morgan, and Doc Holliday in Tombstone, Arizona, kill three cowboys Wyatt had branded as outlaws. The gunfight lasted about 30 seconds and about 30 shots were fired. The Earps and Holliday were charged with murder. However, a Tombstone judge found the men not guilty.
---
1993 Pepsi Syringe Hoax A 25-year-old Pennsylvania man is sentenced to a year in prison. He was the first person charged after the previous summer's dozens of false tampering reports. He admitted to placing the syringe in the can and then telling an emergency room nurse it had touched his tongue.
1984 Baby Fae a 12-day-old infant, receives the heart of a seven-month-old baboon. She survived for 20 days.
1981 David Copperfield The magician makes a 7-ton Learjet disappear on live national TV.
1981 Currency The Bureau of Engraving and Printing begins selling uncut sheets of U.S. currency.
1975 First Egyptian president to visit the U.S. Anwar el-Sadat.
1971 First American to qualify for the world chess championship 28-year-old Bobby Fischer; he went on to win.
1965 The Beatles are awarded the Member of the Order of the British Empire at Buckingham Palace.
1964 The Rolling Stones appear on the Ed Sullivan Show.
1863 Red Cross Delegates from fourteen nations meet to examine Swiss philanthropist Henri Dunant's plans for an international organization to help the wounded in time of war.
1825 First major man-made U.S. waterway The Erie Canal, connecting Lake Erie and the Hudson River, opens.
1749 Slavery Importation and use of negro slaves permitted in Georgia.
Births
1962 Cary Elwes English actor. Film: The Princess Bride (1987, her groom) and Robin Hood: Men in Tights (1993, Robin).
1947 Jaclyn Smith American actress. TV: Charlie's Angels (Kelly Garrett).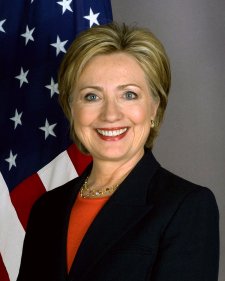 1947 Hillary Rodham Clinton American politician, First Lady. 2016 Democratic Party nominee for President of the United States. 67th United States Secretary of State (2009-13), United States Senator of New York (2001-09), First Lady of the United States (1993-2001), and First Lady of Arkansas (1979-81, 1983-92).
1946 Pat Sajak American game show host. TV: Wheel of Fortune.
1946 Keith Hopwood English rhythm guitarist, with Herman's Hermits. Music: I'm Into Something Good (1964, #1 in UK), Mrs Brown You've Got a Lovely Daughter (1965, #1), I'm Henry VII, I Am (1965, #1), and There's a Kind of Hush (1967).
1946 Holly Woodlawn d. 2015 (Haroldo Danhakl), Peurto Rican transgender actress of Andy Warhol movies. She was immortalized in Lou Reed's 1972 hit Walk on the Wild Side
("Holly came from Miami, F-L-A"). Film: Trash (1970) and Women in Revolt (1972).
1942 Bob Hoskins English actor. Film: Who Framed Roger Rabbit (1988, P.I. Eddie Valiant).
1919 Edward William Brooke III American politician, first black U.S. senator (1967-79) since reconstruction. He was also the Massachusetts Attorney General (1963-67) which made him the highest ranking elected black official in the U.S.
1916 François Mitterand President of France (1981-). He founded the French Socialist Party.
1914 Jackie Coogan d. 1984 American actor, one of the Little Rascals. TV: The Addams Family (Uncle Fester). At age seven he starred with Charlie Chaplin in The Kid (1921), and was one of the highest-paid actors of his time.
1911 Mahalia Jackson d. 1972 American gospel singer, considered one of the greatest of all time. She sang at Pres. Kennedy's inauguration (1961) and at Martin Luther King's funeral (1968).
1879 Leon Trotsky d. 1940 (Lev Davidovich Bronstein), Russian revolutionary leader. He and Lenin organized the October Revolution. He also appeared in the American silent film My Official Wife (1916) using the name Mr. Brown.
1803 Joseph Aloysius Hansom d. 1882 English inventor. His taxi cab (1834) featured a suspended axle and seated the driver above and behind the passengers. It quickly became a favorite in England.
Deaths
1972 Igor Ivanovich Sikorsky b. 1889 Ukrainian-born American aviation pioneer. He developed the first practical helicopter (1939), the first multi-engine airplane (1913), and the flying boat.
1962 Louise Beavers b. 1902 American actress, one of TV's first black stars, the second (1952-53) Beulah of the TV series.
1952 Hattie McDaniel b. 1898 American Oscar-winning actress. She was the first black woman to sing on U.S. radio, and was the first black actress to win an Oscar (1940 for her supporting role as Mammy in Gone With The Wind).
1932 Margaret Tobin Brown b. 1867 American socialite. She was called "The Unsinkable Molly Brown" after surviving the sinking of the Titanic (1912).
1923 Jimmy Ryan b. 1863 (James Edward Ryan), American baseball player. He was the first major-league baseball player to punch a sports writer (George Bechel, 1892).
1918 Cesar Ritz b. 1850 Swiss hotelkeeper, founded the world famous hotels in London, Paris, New York, etc.
1902 Elizabeth Cady Stanton b. 1815 American women's rights leader.
900 Alfred the Great b. 849 King of England (871-900).
<< Previous | Today | Pick a Day | My Birthday | Surprise Me | Next >>